3 Ways e-Learning Enhances Workplace Safety
Workplace safety is a paramount concern in today's fast-paced world, but ensuring employees are equipped with the necessary skills can be a challenge. With workplace incidents rising, employers must find innovative ways to integrate training into busy schedules, allowing for efficient de-escalation and conflict resolution.
Enter e-Learning – a transformative solution that has revolutionised training and education within organisations. In this blog post, we will explore the powerful impact of e-Learning on workplace safety, examining how it can be seamlessly integrated into comprehensive training strategies for preventing occupational violence. Join us as we delve into the advantages and limitations of e-Learning and uncover its potential to safeguard both employees and organisations.
e-Learning, or electronic learning, has gained immense popularity in recent years due to its convenience and flexibility. By leveraging digital technologies and platforms, e-Learning makes training accessible to a vast number of individuals while breaking down the content into smaller, more manageable modules that can be completed independently.
This modern approach to education encompasses a wide array of methods, including online courses, interactive modules, virtual simulations, and multimedia resources like videos, audio clips, and animations. These diverse formats cater to different learning styles and enhance engagement and retention.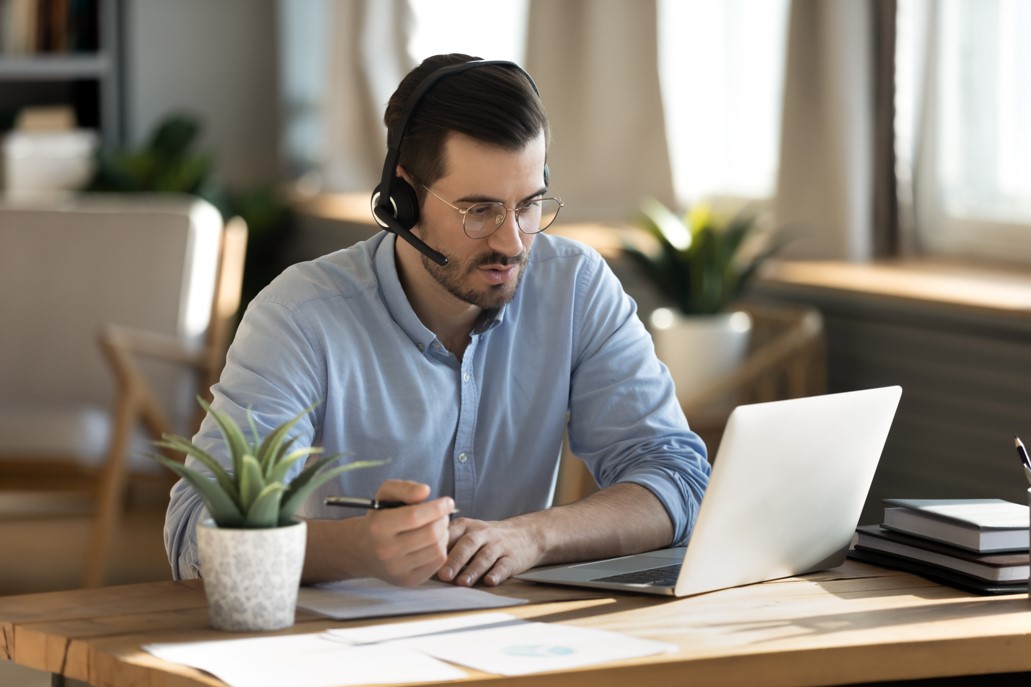 How Can e-Learning Enhance Workplace Safety?
1. Learning is accessible - anytime, anywhere access.
One of the key advantages of e-Learning is its accessibility. It allows employees the freedom to access training materials at their convenience, irrespective of their location or time availability. Whether they are in a different state, in the comfort of their own homes, working irregular hours, or have limited time, e-Learning eliminates the need for employees to attend live training sessions for prolonged periods. This accessibility ensures equal opportunities for all employees to gain essential safety knowledge and skills.
Furthermore, e-Learning's self-paced nature empowers individuals who excel in independent learning environments to progress according to their own speed.
With Resolution Education, e-Learning packages can be customised to meet organisational needs regarding time availability, number and location of employees, and specific needs relating to workplace incidents. These packages can be text-based, video-based, adventure-based, or entirely customised in a way that suits the organisation best.
Resolution Education's e-Learning packages can be easily integrated into an organisation's Learning Management System, ensuring it is easily accessed by all employees.   
2. Learning seamlessly integrates into onboarding.
Another advantage of e-Learning is the ability to create induction and onboarding packages. Organisations can create modules specifically designed for introducing new employees to workplace safety protocols and processes, ensuring a smooth integration into the organisation. Newly hired employees can access this content remotely and complete the associated tasks either before or during their initial days of employment.
Furthermore, implementing an e-Learning program as an onboarding method helps organisations to standardise the training process, ensuring that every new employee receives the same level of knowledge. 
Resolution Education collaborates with organisations to create customised e-Learning packages for induction and onboarding, tailored to their staff's specific requirements. This process entails actively participating in discussions and carefully reviewing company policies, procedures, and incident reports, with the primary objective of providing new employees with thorough preparation to effectively handle challenging workplace incidents.
3. Learning is continuous.
Workplace safety is an ongoing commitment that requires regular reinforcement of knowledge. With e-Learning packages, employees can continuously access learning and resources to refresh their memory on safety procedures, techniques, or protocols. This flexibility allows individuals to stay informed on evolving safety practices and regulations, ultimately fostering a culture of continuous learning and awareness.
Through extensive collaboration and customisation, Resolution Education's e-Learning packages can meet this need for on-demand knowledge reinforcement. This empowers employees to remain skilled and confident in the learning content. Furthermore, depending on the Learning Management System (LMS) employed, the data and results of each employee can be connected to internal HR systems. This ensures employers have a detailed understanding of each employee's current level of knowledge and can accurately identify any areas of improvement.
e-Learning vs. Face-to-Face
While e-Learning offers numerous benefits, it is important to acknowledge its limitations, particularly in the context of training on occupational violence and aggression. The complex nature of this subject often necessitates a more immersive learning environment like that of face-to-face training.
Face-to-face training offers several advantages, including the valuable opportunity for participants to engage in group discussions, role-playing exercises, and hands-on activities. These interactive elements play a pivotal role in nurturing essential interpersonal skills required for de-escalation and conflict resolution. Group learning scenarios provide the ideal setting for employees to openly discuss challenges and collectively explore potential solutions, further enhancing their ability to tackle such complex issues.
Additionally, face-to-face settings allow employees to reflect on and contextualise their learning, enhancing retention and the practical application of acquired skills.
Lastly, face-to-face training enables trainers to assess individual learning needs, provide immediate and personalised feedback, and address specific concerns or questions. This level of tailored guidance can be more challenging to achieve through an e-Learning approach.
A Comprehensive Approach is Key
At Resolution Education, we believe that a comprehensive approach is key to establishing a solid and productive training strategy, particularly when addressing occupational violence and aggression. By combining a variety of learning approaches, such as face-to-face training and e-Learning packages, organisations can optimise the effectiveness of their training efforts. Face-to-face training sessions can focus on practical skills, scenario-based exercises, role-play, and rich discussion, while e-Learning can provide deeper theoretical foundations, induction and onboarding solutions, and knowledge reinforcement. This integrated training approach encourages continuous learning, fosters a culture of safety, and equips employees with a well-rounded skill set.
In conclusion, by leveraging the strengths of face-to-face training and e-Learning, organisations can achieve a safer, more secure, and more productive working environment.
If you are interested in establishing a comprehensive training strategy to best prepare your employees and set your organisation up for success, reach out to us today. We have eLearning packages as well as face-to-face de-escalation and conflict resolution training packages to meet your organisational needs.