De-escalation & Occupational Violence & Aggression Training Australia
Incidents of occupational violence and aggression (OVA) are increasing. To address this need, Resolution Education provide De-escalation & OVA Training, a specialised program designed to equip your team with necessary skills to handle heightened individuals in the workplace.
Our training course is interactive and provides participants with a comprehensive set of essential skills. Participants will learn how to effectively recognise and respond to hostile and agitated individuals in various situations.
Our primary objective is to empower participants with the confidence and capability to de-escalate tense or threatening circumstances before they become violent, creating an environment conducive to healthy and constructive communication.
Who Will Benefit From
De-escalation Training?
This training is beneficial for employees who frequently interact with difficult, heightened, or angry individuals. Our interactive training package is specifically designed to empower participants to effectively handle such challenging situations.
With a proven track record of training personnel at all levels within various organisations, we understand that the types of encounters can vary greatly depending on each role and industry. That is why our training is based on our A.D.P. Framework and customised to address the unique needs of different organisations. By tailoring the concepts to be relevant and effective, we ensure that every participant receives the utmost value from the training.
Whether you are a front-line employee, a manager, or hold any other position requiring contact with difficult individuals, our De-escalation & OVA Training can provide you with the tools and skills necessary to succeed. Contact us today to discuss your specific training needs and unlock the benefits of this comprehensive program.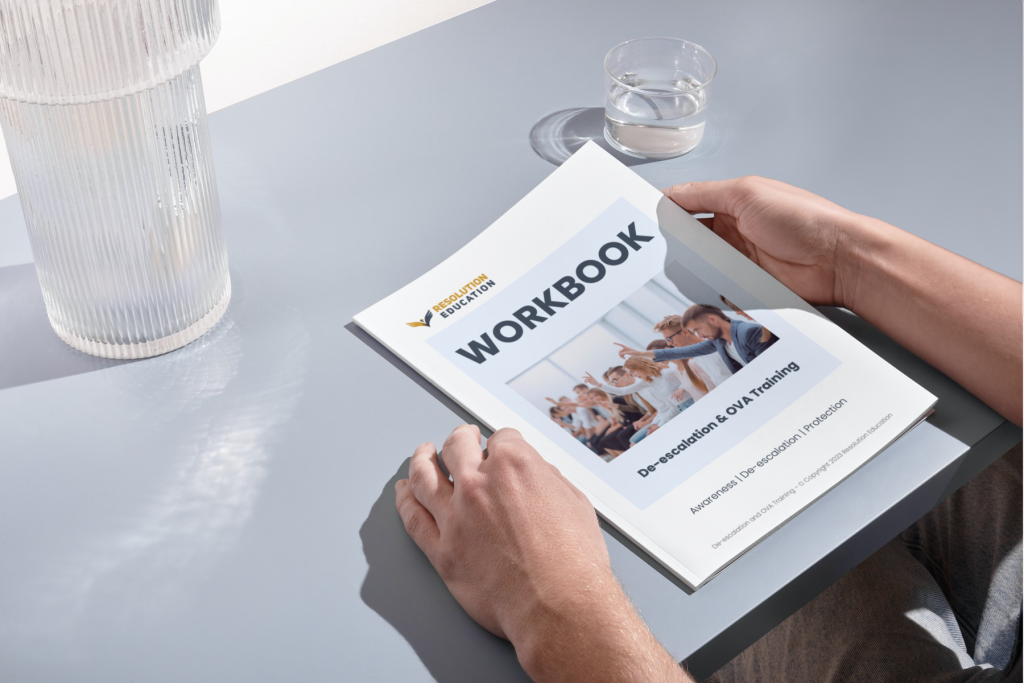 Duration: Half-Day or Full-Day
Delivery: Face-to-Face, Virtual, or e-Learning Packages
Location: Australia, New Zealand and Internationally – at your workplace or at a convenient location of your choice
Capacity: Up to 25 people for the day or an additional trainer can be organised
What To Wear: Clothes you would normally wear to work
By completing this course with the three key modules in the proven A.D.P. Framework, you will:
recognise the signs of somebody becoming agitated
increase your situational awareness and preparation
increase your ability to evaluate a situation to make more informed and appropriate decisions regarding your safety and required next steps
develop your confidence in using appropriate de-escalation skills and techniques to handle a situation safely either in the workplace, on the phone or when working remotely
control your emotions during an escalating situation
use your voice and tone appropriately to help resolve an issue
be able to deal with people who are under the influence of drugs or alcohol
be able to deal with people with a mental illness
learn, through practice, various techniques related to freeing yourself from an aggressor
This training provides a safe environment to discuss various situations, which increases both the understanding of the material presented and confidence in the ability to deal with unexpected conflict and difficult people.
All course outlines are based on the proven A.D.P. Framework and are customised through consultations with you prior to the day of training. This ensures that the needs of the group and individuals participating in the training are addressed, as their safety and increased confidence in dealing with difficult situations is our priority.
The training is divided into three modules AWARENESS, DE-ESCALATION and PROTECTION, each of which deals with important key aspects that are vital in combatting incidences of violent behaviour in the workplace (or when working remotely).
A more detailed De-escalation & OVA Training course outline can be provided by contacting us directly.