What is colour coding for?
Many healthcare organisations operate with a set of codes that alert staff to emergencies within the workplace. These codes are categorised by colour and ensure efficient communication, quick response time, and increased safety of all involved.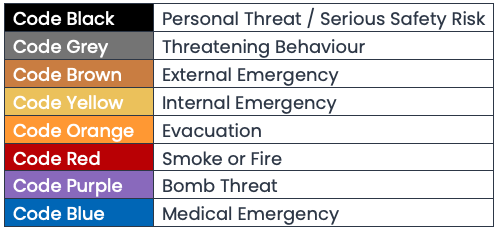 What is a Code Black?
In the healthcare sector, there are many colour-coded incidents with a Code Black call being significant in relation to Occupational Violence and Aggression. A Code Black is called when staff require emergency assistance because a patient or other person(s) poses a serious safety risk to others in the organisation (staff, volunteers, patients, visitors, etc). Incidents may involve armed or unarmed aggressors threatening to harm themselves or others.
Healthcare organisations create Code Black teams whose responsibility is to answer these Code Black calls. However, there are some ways these Code Black teams falter which results in a lack of efficiency and a decrease in the level of safety. Outlined in this article are common mistakes these teams make, how to avoid them and how to improve your Code Black procedures overall.
How can organisations improve their Code Black procedures?
Tip #1: Increase Code Black awareness among all staff
One of the key aspects of effective Code Black systems is that every employee—whether they are a part of the Code Black team or not—recognises exactly when and how to call a Code Black as well as who will be responding if they do. If an organisation does not provide this necessary information, it creates confusion among employees around boundaries and what constitutes an emergency, a lack of trust in the workplace support system, and an increased risk of danger to staff and members of the public. It is important that organisations take the time to clearly define within their team what a Code Black is and when to call one.
Suggestion: It is recommended that companies create a work environment where there is a consistent understanding of boundaries, the steps taken when a Code Black is called and each person's role to play in a Code Black procedure.
Tip #2: Practise drills with Code Black teams
Practising drills builds confidence and competence when dealing with emergencies. Many organisations have Code Black systems in place, but they fail to drill employees on them. This is an issue because it means their Code Black teams lack the knowledge and skill to carry out the emergency protocols effectively. When teams are provided with scheduled practise drills, there is time for immediate corrective instruction in a low-risk setting, reinforcement of new learning, and procedural fluency. Therefore, team members are better equipped to safely handle a Code Black call in their workplace.
Suggestion: Try to take your Code Black team out every couple of months to practise different drills, increase confidence, and improve any weak areas in the procedures. 
Tip #3: Ensure clarity around Code Black team roles
When a Code Black is called, members of the Code Black team should be well-trained on their part in the procedure. Issues arise when there is confusion about each team member's role and responsibility, resulting in a lack of structure in the procedure and a delay in response time. This creates a level of danger that could be prevented with clarity around roles.
Resolution Education's Code Black Training allows for up to six roles in a Code Black scenario, depending on the healthcare facility:
Communicator: The lead team members on the team and the first point of communication with the aggressor.
Left Arm: The team member in charge of securing the left arm of the aggressor*
Right Arm: The team member in charge of securing the right arm of the aggressor*
Guide/Observer: The team member approaching from the back helps move the aggressor during the restraint by coordinating the Left and Right Arm or observes what is happening and contacts the police to escalate the situation if needed.
Controller: The team member tasked with handling doors and other people in the area.
Clinical Staff: The team member required to administer medication and check the well-being of the aggressor.
*Only required if doing restraints.
Suggestion: Take a moment to clearly define the roles that each Code Black team member is responsible for and communicate these roles with all staff.
Tip #4: Review all Code Black incidents
A significant aspect of effective Code Black procedures is reviewing incidents after they take place. Many organisations do not allow time to review incidents even though it helps determine trends and identify patterns. Not only does this prevent incidents from reoccurring, but it creates an opportunity to assess and adapt responses and adjust roles where necessary.
Suggestion: To ensure the greatest safety within your organisation, take time to review incidents with the Code Black team and adjust procedures accordingly.
Tip #5: Focus on de-escalation
Focussing on de-escalation strategies can help reduce the severity of Code Black incidents. Many organisations are not aware of the benefits of using verbal techniques to de-escalate a situation before it turns to physical intervention. All Code Black team members can be trained on these de-escalation strategies which will minimise the need to physically intervene and therefore reduce the level of danger for all involved.
Suggestion: Take time to up-skill staff on effective de-escalation strategies, this will ensure a reduced number of physical interventions and greater safety in the workplace.
If you need help training your staff and Code Black teams, as well as creating drills for practising incidents, then fill out the form below as we would be happy to outline training programs that meet your specific needs.